COMPANY PROFILE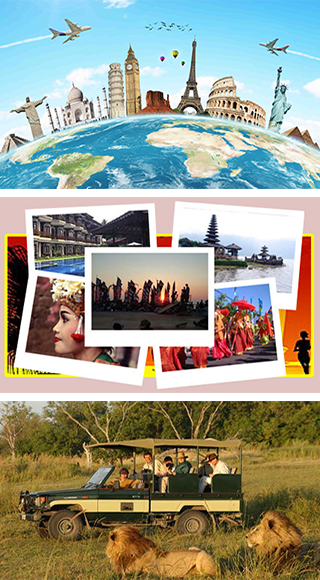 Briefly About Dawin Tours & Travel
Our company is a fully registered company in Kenya and a member of Kenya Association of Tour Operators (KATO), Kenya Association of Travel Agents (KATA) International Air transport Association (IATA) American Society of Travel Agents (ASTA)

We specialize in Air Ticketing both Domestic and International, Bush safaris, Beach Holidays, cultural Safaris, Sports Safaris, Excursions, Pilgrims, Hotel Bookings, Car Hire, Tour Packages, Sale of Travel Insurance, charter flight services and Educational packages.

We strive to offer a complete package to our customers, offer personalized services to all our clients and tailored safaris to meet their very need and suite their variety and interests. These are offered by our pool of qualified and experienced staff.

We are committed to providing the very best customer service during each step of your trip. From planning your sightseeing tour or your dream vacation, to helping you select the best tour package to suit your needs ,our experts are there to share their local knowledge and to ensure that you have the best possible experience.

On your trip, knowledgeable, licensed guides connect the history, geography and theology of the places you'll be visiting - in a friendly and intimate atmosphere that we create for you. It's important to us that each traveler receives personal attention and care from our local staff. Comfortable modern coaches transport you through expertly planned itineraries. Along the way you'll sample delicious local cuisine. And of course, first class accommodations await you each evening.

The combination of our extensive network, years of experience and talented associates makes it possible for DTT to deliver award winning tour packages at fantastic rates.


MISSION STATEMENT
We strive to offer professional services with the highest level of integrity, honesty and efficiency while maintaining our commitment to the environment in collaboration with other industry stakeholders. Travelers have a great many choices when looking for an outstanding Safari. It means understanding what areas to visit, accommodation options, food experiences, optimal group sizes, what time of the year to visit and who will be guiding them.
OUR VISION
To be the preferred East African safari company by investing our energy and resources into the people that embody the 'Dawin Travel Ecosystem'.
Dawin Tours & Travel takes pride in being among the best and most ethically-responsible tour operators in East Africa. In order to support that vision, we believe it is essential to connect as many of the elements that make an outstanding safari adventure to our clients as is possible.
OUR DIFFERENCE
We strive for excellence and professionalism in everything we do for our clients. Our staffs are the best in Tours and travel industry has to offer, we have Spanish and French speaking guides well informed about the destinations. Our top priority is to deliver the finest travel product. But as always, the best way to find out will be to try and use our products and to ask some of the thousands people who has traveled with us.